Phase sequence and motor rotation tester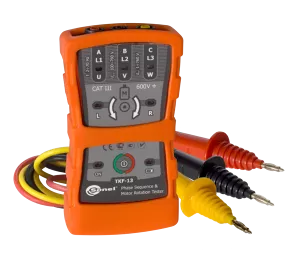 Phase sequence and motor rotation tester
Index cat. WMGBTKF13
Ingress protection: IP 42
Measurement category: CAT III 600 V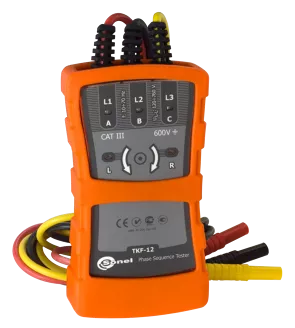 Phase sequence and motor rotation tester
Index cat. WMGBTKF12
Ingress protection: IP 42
Measurement category: CAT III 600 V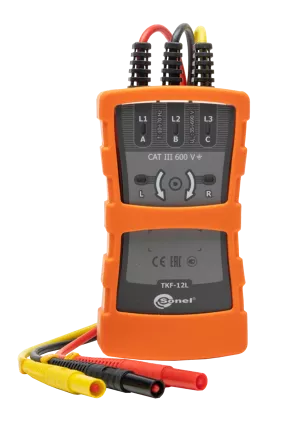 Phase sequence and motor rotation tester
Index cat. WMGBTKF12L
Ingress protection: IP 42
Measurement category: CAT III 600 V
Sonel phase sequence testers
The correct operation of devices powered by three-phase electric motors depends on the correct phase sequence. Detecting faults is especially important to prevent damage to the device or installation. For this purpose, the Sonel phase sequence testers are perfect, whose main task is to control three-phase electrical installations. The meters indicate the rotating field and the direction of rotation of the motor shaft using the wired and cordless methods and are ready to work in a wide range of phase-to-phase voltages.
Sonel phase sequence meters
Sonel's error-free and functional phase sequence meters are suitable for every area where it is necessary to control three-phase electrical installations. Therefore, they are an indispensable element of the equipment of every electrician and installer, they are extremely useful in vehicle electrical plants as well as in industrial automation. Each kit includes standard accessories that allow the instrument to be connected to the device to be tested.

The functionality of the testers presented in this category can be further extended thanks to optional adapters, which enable easy and precise measurement of 16-, 32- and 63-amp industrial sockets.

Excellent quality phase sequence meters from the reputable company Sonel
Professional Sonel phase testers are devices with high resistance to mechanical damage and ready to work in a wide range of phase-to-phase voltages in distribution circuits. The voltage is detected by LED indicators. The use of meters is especially important in order to ensure the proper operation of devices and machines, as well as to prevent damage that could be expensive to repair. High-quality Sonel phase meters ensure quick and hassle-free verification of the installation.

Choose proven Sonel measuring devices
The Sonel company has been building its reputation since the beginning of the 1990s. Established by young engineers, from the first years it was guided by the idea of ​​supplying the market with specialized measuring equipment. The company's offer was quickly expanded with new devices, the reliability and excellent parameters of which were appreciated by professionals in Poland as well as on the international market.

As the official Sonel store, we offer a full range of professional meters and other devices from this manufacturer. An extensive range of testers based on advanced technologies meets the needs of specialists from the broadly understood electrical industry. If you are looking for reliable meters with rich functionality, the offer prepared by Sonel will not disappoint you. Choose proven measuring devices that are used by professionals around the world!