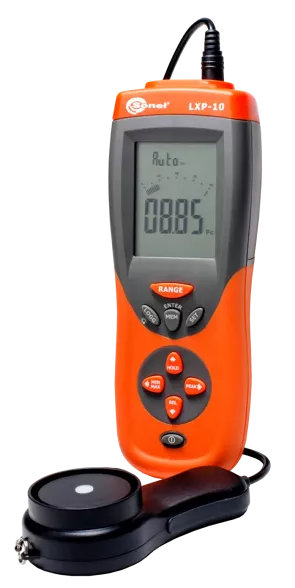 Illuminance Meter
Index cat. WMGBLXP10A
Data transmission: OR-2, USB
Display: monochrome, backlit, segmented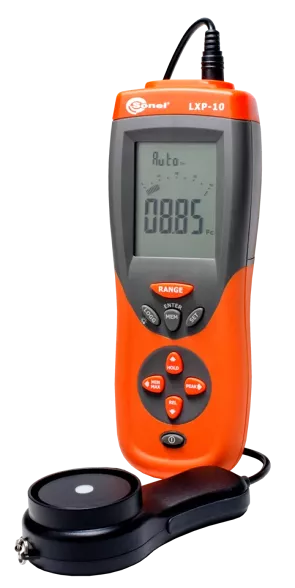 Illuminance Meter
Index cat. WMGBLXP10B
Data transmission: OR-2, USB
Display: monochrome, backlit, segmented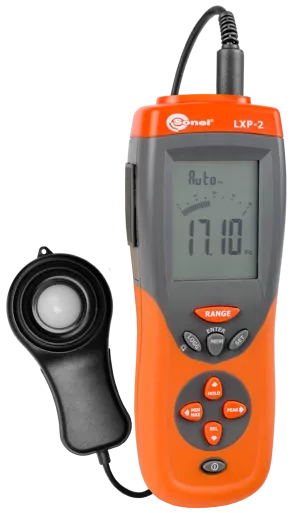 Illuminance Meter
Index cat. WMGBLXP2
Data transmission: USB
Display: monochrome, backlit, segmented
Illuminance meters
Lux meters are used primarily for measuring the intensity of lighting in workplaces, as well as for emergency lighting, e.g. escape routes. Specialized lux meters are used to measure various types of lighting, including LED light sources, fluorescent lights, electrode-free lamps and incandescent lamps.

Reliable Sonel lux meters
Highly effective light meters constructed by the Sonel brand are characterized by high measurement accuracy and numerous functions that further increase their usability. The HOLD mode allows you to freeze the displayed values, while the PEAK HOLD mode allows you to freeze the peak values ​​of the light pulses. In addition, Sonel lux meters ensure easy communication with a PC via a USB connection. The luxmeter also has the ability to wirelessly send data to a computer program using the optional OR-1 adapter. Thanks to the built-in memory, the device can record performed measurements - even up to 16,000 results.

Sonel lux meters are used mainly in industrial areas as well as in public buildings. Due to their versatile possibilities, they can be used to measure all types of lighting.

Functional illuminance meters from a proven manufacturer
The Sonel company has prepared a series of reliable LXP lux meters with various levels of advancement, which are perfect for precise measurement of lighting in industrial and public facilities. Depending on the model, Sonel lux meters perform measurements in class A and class B. Each of the models of this manufacturer is characterized by high measurement accuracy, thanks to which it is effective in professional use. Thanks to various parameters, Sonel LXP light meters will adapt to the requirements of each user. Easy communication with a computer via USB or OR-1 adapter (wireless connection) additionally increases the functionality of these professional devices. Modern Sonel illuminance meters are a guarantee of reliability and long-term efficiency.

The highest quality and precision - get to know the reliable Sonel measuring devices!
A leading manufacturer of measuring instruments - the company Sonel - has been skilfully following the needs of the broadly understood industry and electrical industry for years, providing innovative devices with high functionality. The company's products are well known and appreciated among professionals all over the world.

The Soneltest online store provides a wide range of Sonel products, including reliable lux meters and many other measuring devices characterized by excellent parameters, including high measurement precision. We encourage you to take advantage of the rich offer of our store!